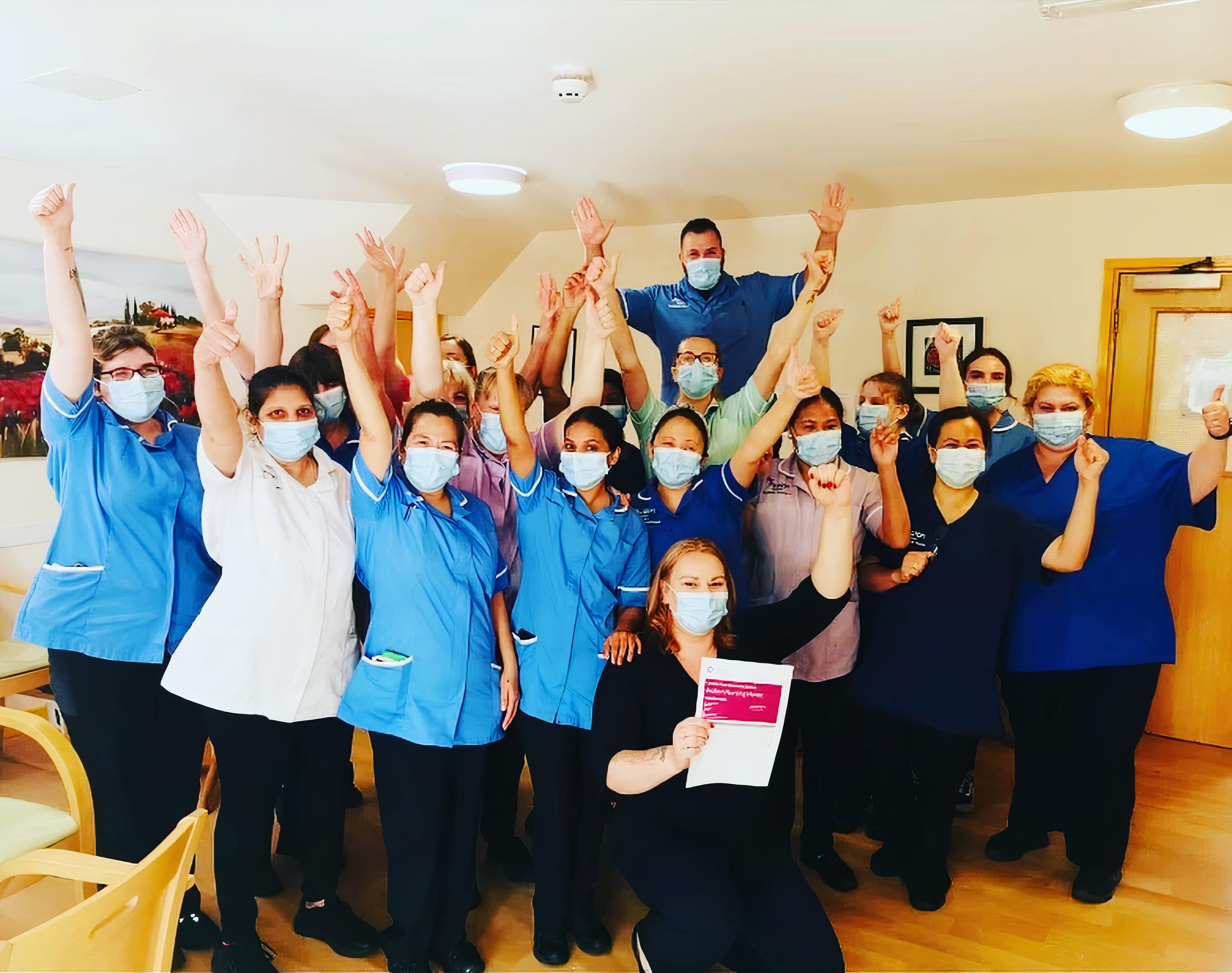 MANAGER OF BRIDGWATER DEMENTIA CARE HOME PRAISED BY CQC
A report published by the Care Quality Commission (CQC) last month following an unannounced inspection of Avalon Nursing Home in Bridgwater officially concludes that the home provides a 'Good' level of service across the board, and highlights the contribution made by service manager Jess Hawker.
Paul Teasdale, director of the Camelot Care group, of which Avalon is part, said: "We are delighted by the commendations given to the CQC by residents, families and members of staff, which demonstrate so well what a fantastic job Jess and her team are doing, and reflect the positive impact of the care they provide on the lives of our residents.
"One family member told the inspectors they believe their relative is in the best place because he gets the care he needs and is treated with respect from the staff. They added that they cannot fault the Avalon team on how they deal with their loved one.
"You can't say better than that."
Other comments from families included: "I can walk away knowing my relative is safe;" "The staff do a fantastic job. They are special people;" "The entire staff structure of nursing, care, domestic, and administration, has always been to the highest standards in every respect, for which we have the highest regard, and are eternally grateful;" and "I have always found the staff amazing…In all my time of visiting and helping out at Avalon Nursing Home, I have never heard the words, 'we haven't got time'."
Inspectors noted that manager Jess Hawker had a clear vision for the service and had told them that the Avalon ethos is about creating a holistic approach to dementia and nursing care.
She also said the service was proud not to have used agency staff since the previous year, and that they did not admit new residents if their needs could not be met by the existing staff team.
Jess Hawker said: "The staff deserve great acknowledgement for their efforts, and I am extremely proud of them.
"I believe it's really important they should know how much they are appreciated, so we've introduced some new initiatives, including an 'awards board' and 'employee of the month' reward scheme to celebrate staff achievement and dedication."
The report described how Jess promotes a positive culture that is person-centred, open, inclusive and empowering, and which achieves good outcomes for residents.
It also detailed how she ensures that residents, families and staff alike are all engaged with making decisions and driving improvement in the service, and that Jess implemented action plans to ensure changes were made effectively and in a timely way.
Comments from the staff about their manager included that she "…is very supportive; a good manager and well respected."
Feedback from staff showed they were confident about empowering residents to make their own choices and take risks. They told inspectors that they support people to live their lives in the least restrictive way.
They also told the inspectors they were provided with opportunities to learn and progress.
And relatives commented that Jess Hawker had impressed them all with her leadership and approachability.
The report noted that the various cultures of the Avalon staff team are celebrated, for example with a display in the lounge describing the heritage and education of various members of the team and how they had achieved their qualifications.
In response to this, one relative had said: "It is lovely to see a multinational team of health care workers bringing with them the old fashioned 'care of the elderly' so often missing in this modern age."
A delighted Jess Hawker said: "One of the things that really pleased me was the inspectors' acknowledgement that our staff care for people like they would their own relatives.
"And they recorded that staff were observed adjusting their approach to suit people's individual personalities, giving special mention to a colleague who sat with one of the residents, speaking calmly and intermittently.
"This was because they'd taken the trouble to understand them and connect at the right level. The individual's relative told the inspectors that this resident would get fed up with too much chatter.
"I am incredibly proud of the way my team pull together and the level of service they provide, and it's simply wonderful to receive the official endorsement of this report." The full report can be seen here www.cqc.org.uk/location/1-2105241534
Avalon Nursing Home can provide personal and nursing care for up to 55 people. Accommodation is laid out over two floors, with private en-suite bedrooms on both floors.
The ground floor provides level access to a garden, with patio and outdoor dining furniture. There is additional outside space in the form of a small courtyard adjacent to the large communal lounge. Smaller lounges and seating areas are available throughout the home. Further details are available at www.camelotcare.co.uk or call 01278 450450
https://www.camelotcare.co.uk/wp-content/uploads/2021/10/Avalon-staff-celebrate-CQC-report.jpg
2274
2880
Camelot Care
https://www.camelotcare.co.uk/wp-content/uploads/2015/08/Camelot-Care-logo-300x58.png
Camelot Care
2021-10-08 11:33:09
2021-10-08 11:33:09
MANAGER OF BRIDGWATER DEMENTIA CARE HOME PRAISED BY CQC