Camelot Lodge is a purpose built addition to Camelot House, providing the same high standards of care in its own bespoke environment.
Set over two floors, the spacious open-plan living and dining area opens out onto 'Archie's Garden.' All 28 ensuite rooms are spacious and have flat screen televisions as standard while clear dementia-friendly signage assist residents as they enjoy the many attractive features of the home.
Accommodation
&

Facilities
All 28 bedrooms are single and ensuite. Residents are encouraged with the help of family and friends to personalise their rooms with small items of furniture, pictures and ornaments.
Spacious open-plan living and dining area
Bright and dementia-friendly walkways
'Archie's garden' with pergola and fountain
Flat screen televisions in all bedrooms
Hair salon
Quiet and private visitors' lounge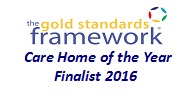 Camelot House is proud to have been accredited with 'Beacon Status' in the 'Gold Standards Framework' for end of life care. As the highest level of the award given within the framework, it recognises the expertise and the role the Camelot House team play along with resident's doctors and social workers in providing the best care till the end of life.
Watch our Gold Standards Frameworks video and see for yourself why we have been given this prestigious status.
Click here to find out more about the Gold Standards Framework