Camelot House prides itself on its relaxed atmosphere and open and spacious communal areas. The home has undergone extensive refurbishment and has been designed to the highest standards. Set over two floors clear signage and colour-coded wings assist orientation and our dementia-friendly layout provides a safe environment for residents to explore and enjoy the many attractive features the home contains.
Residents can relax in the airy Willow Wing lounge that overlooks one of our colourful gardens, or enjoy the birdsong from our aviary in Albert Square. Plenty of natural light and three easily accessible gardens keep the home fresh and allows residents to enjoy plenty of sunshine and fresh air. The home has a small allotment where residents can grow flowers and vegetables and near this are chickens Essie and Rosaline. We also have two guinea pigs Brandy and Sherry, and a rabbit named Pudding.
Accommodation
&

Facilities
All rooms are single with an accompanying ensuite. Residents are encouraged with the help of family and friends to personalise their rooms with small items of furniture, pictures and ornaments.
Four bright and spacious lounges
Two dining areas
Light and airy, climate-controlled conservatory
Beautifully tended lawn and three easily accessible gardens
Reminiscence lounge
Peaceful visitors room
Discovery boards around the home
The 'Albert Square' garden
Hair salon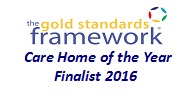 Camelot House is proud to have been accredited with 'Beacon Status' in the 'Gold Standards Framework' for end of life care. As the highest level of the award given within the framework, it recognises the expertise and the role the Camelot House team play along with resident's doctors and social workers in providing the best care till the end of life.
Watch our Gold Standards Frameworks video and see for yourself why we have been given this prestigious status.
Click here to find out more about the Gold Standards Framework