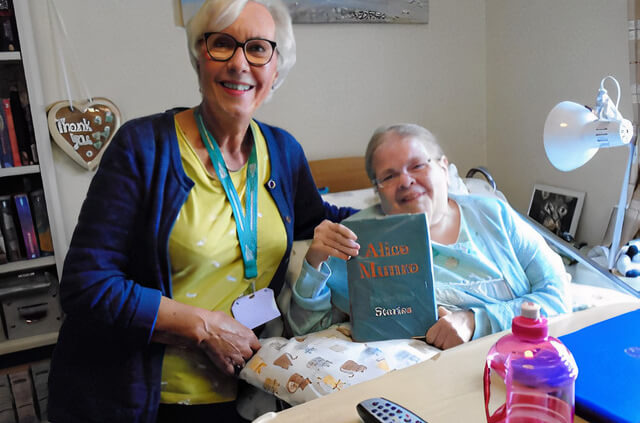 For bookworm Liz Hardy coronavirus can't be brought under control a minute too soon.
The pandemic means the 72-year-old no longer gets to meet and exchange library books brought by fellow book-lover Marilyn Mann, a volunteer with the Royal Voluntary Service's Home Library Service.
The twice-monthly library book visits were a lifeline for Liz, a resident at Camelot House & Lodge specialist care home in Wellington, who is a voracious reader.
"It has been very difficult as we have had almost five months of absence," said Marilyn.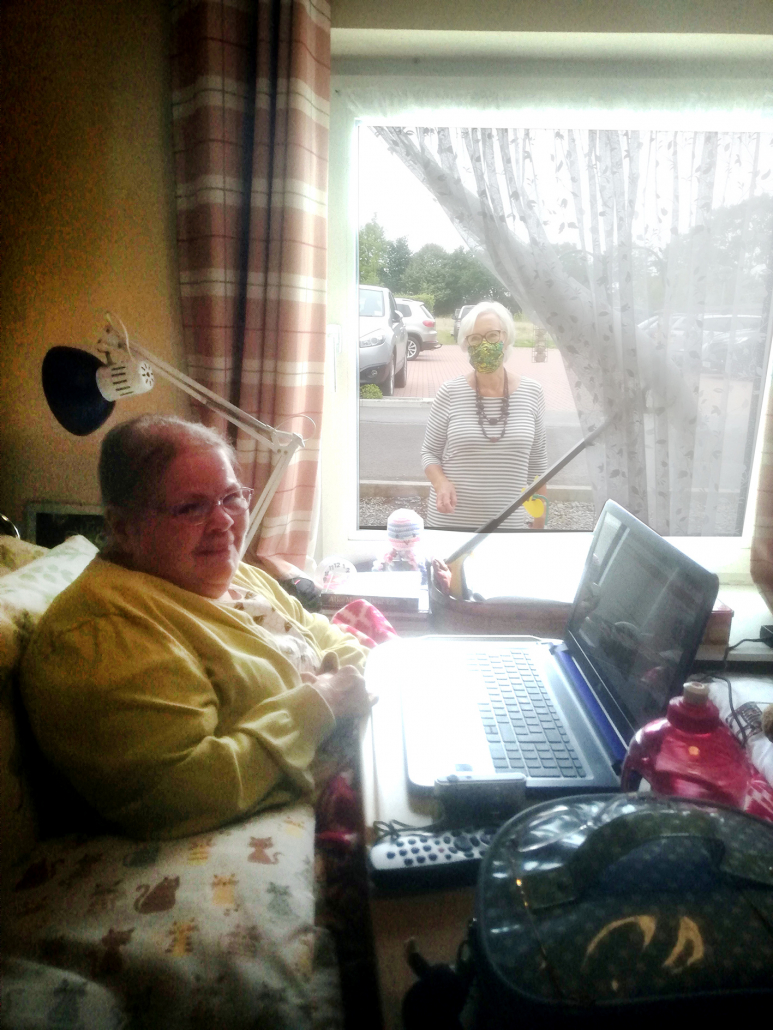 "I have had a couple of conversations through the window, but as the weather deteriorates it will become too cold for Liz.
"I used to visit the residents' lounge and bring books for up to eight residents on a fortnightly basis, but now it's a monthly drop-off service only."
Liz, who is half American, half English, and grew up on US army bases, and spent much of her adult life in the US, has lived at Camelot House & Lodge for the past six years.
"Our homes were always filled with books. My mother loved reading, too," said Liz.
"We lived in my last house in Memphis for 23 years, so we had a long time to cram the house with books!
"It's silly to say 'books mean everything' but they do mean so much to me. I never go a day without a couple hours, at very least, in a book.
"I enjoy getting books from the library, I like to support it. It's so important to preserve them, especially for people who have no other access.
"Meeting up with Marilyn means a lot to me. We mostly chat about books and what we're currently reading. Hopefully we'll be able to have indoor visits again next year.
"The RVS is excellent and provides a very important service. Marilyn is lovely and a fine ambassador."
Liz enjoys modern fiction or 20th Century classics; Margaret Atwood, Isabel Allende and PD James are some of her favourites.
The next books on Liz's reserved list include the new Bernadine Evaristo, E.L. Doctorow, and Paul Auster novels.
"Books allows residents to escape through reading," said Richard Dempslake, activities co-ordinator at Camelot House & Lodge. "And in the case of our residents with dementia suitable books can open up memories which might otherwise be buried."
"Liz is very passionate about books and her room is lined with book shelves. It is hard that she can no longer enjoy her regular visits from Marilyn.
"The Royal Voluntary Service are so dedicated and bring so much joy, we cannot thank them enough for the work they do."
Camelot House and Lodge is run by Camelot Care is a specialist care home for up to 90 people located on Taunton Road, Wellington.
Our resident bookworm Liz Hardy and fellow book-lover Marilyn Mann – a volunteer with the Royal Voluntary Service's Home Library Service who regularly brings Liz new books – had the chance to chat about their joint passion on BBC Somerset Radio recently. Have a listen here: https://www.bbc.co.uk/sounds/play/p08s5m5m  The interview starts at 02:25 into the programme and runs for seven minutes, it is available until mid November.
https://www.camelotcare.co.uk/wp-content/uploads/2020/10/Marilyn-and-Liz-in-happier-times-BEFORE-lockdown.jpg
500
640
Camelot Care
https://www.camelotcare.co.uk/wp-content/uploads/2015/08/Camelot-Care-logo-300x58.png
Camelot Care
2020-10-07 12:44:30
2021-01-29 09:20:58
Booklover Liz can't wait for Covid to be over