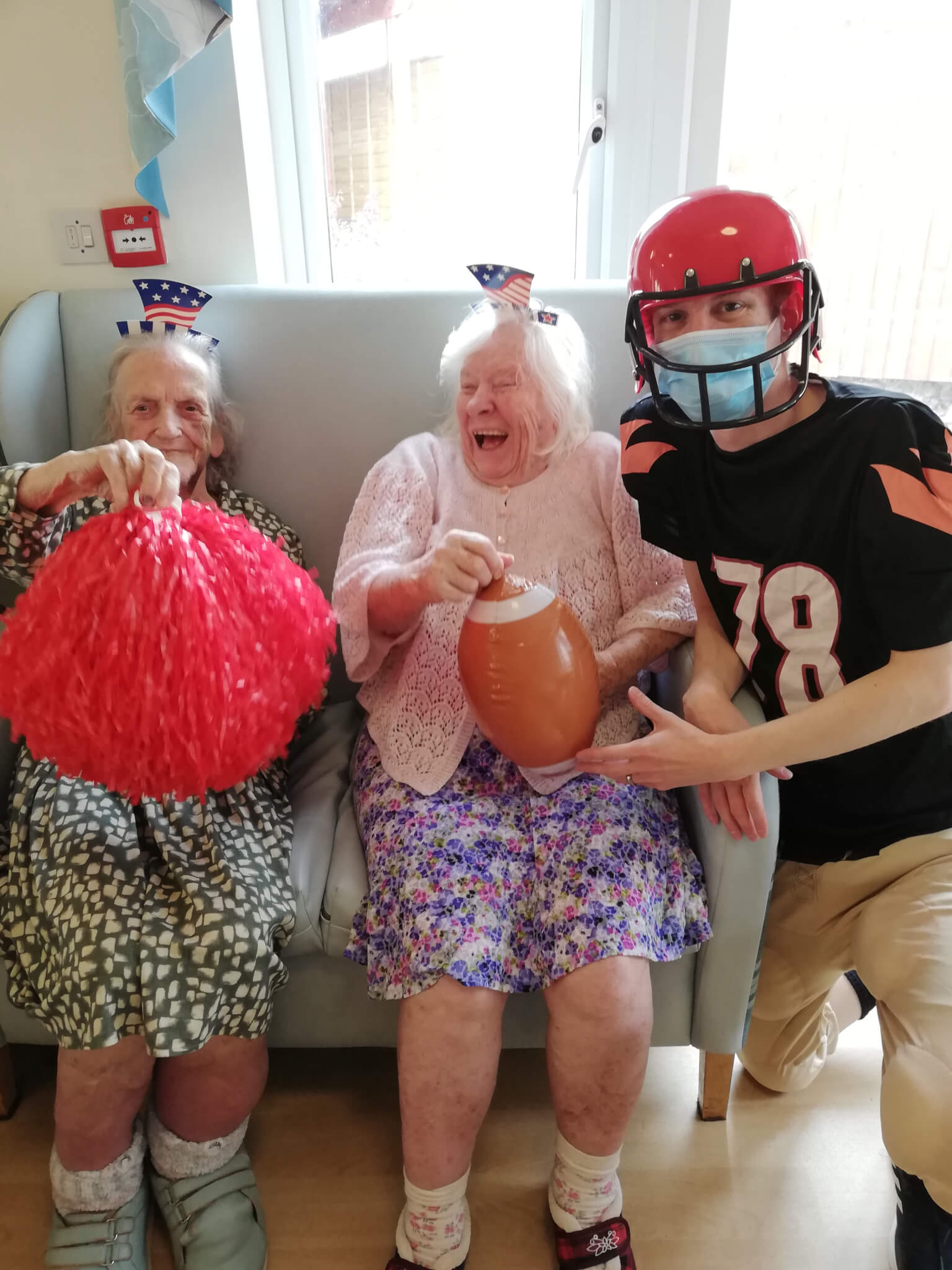 Coronavirus may have paid put to their annual summer fete, but that didn't stop residents at a Wellington care home from enjoying themselves.
In its place, activities co-ordinator Richard Dempslake and his team at Camelot House & Lodge, hosted a special concert, party and a pop-up cinema.
"We may be on lockdown, but we still wanted to make it a special day for our residents and this year the date just happened to coincide with American Independence Day," said Richard.
"We have two residents, Liz Hardy and Cindy Williams, both of whom spent some of their lives in the US and loved the idea, so we thought 'why not?'
"Liz remembered eating watermelon as part of the celebrations, and Cindy, who raised her children in New York, said she and her family loved the parades and the fireworks."
Richard, kitted out as an American footballer, was joined by team members Amy Lemon in a hot dog costume, Kathy Burge as the Statue of Liberty, and Sophie Carter as a cheerleader.
The 'troupe' performed songs such as Kids in America, New York New, Happy Days theme song, the Fast Food song and Toot Sweets from Chitty Chitty Bang Bang.
"During the show I involved residents in a catch and throw game with an inflatable American football, and also had selfies taken with each member of the team," added Richard.
"Residents were in fits of laughter with our costumes and loved our new looks. "
To get people into the party mood the homes' two dining rooms and three lounges were decked out with American bunting and mini flags, and posters that residents had helped paint and design.
To mark the occasion some of the Camelot House & Lodge's women residents had their nails varnished in red, white and blue.
Head chef Christ laid on a barbeque menu with hot dogs and hamburgers, and kitchen assistant Niluh baked American-styled cupcakes for dessert, including servings of watermelon.
Clare Hunter, a family member of a resident at the homes baked and donated her own cakes.
The pop-up cinema ran American musicals including Grease, West Side Story and film performances from stars including Elvis Presley and John Denver.
https://www.camelotcare.co.uk/wp-content/uploads/2020/07/July-4-1.jpg
2048
1536
Camelot Care
https://www.camelotcare.co.uk/wp-content/uploads/2015/08/Camelot-Care-logo-300x58.png
Camelot Care
2020-07-23 15:25:26
2021-01-29 09:20:58
STATE-SIDE TREAT FOR CARE HOME RESIDENTS