Nobody got cold feet when residents from a Wellington dementia care home were rolled on to Taunton's Christmas ice-rink at Castle Green (yesterday) in specially-adapted wheelchairs for a few thrilling circuits beneath fairy lights and to a soundtrack of festive tunes.
Richard Demsplake, activities co-ordinator for Camelot House and Lodge, who arranged the outing as part of the home's packed Christmas schedule, organised for expert skaters to support the residents to safely enjoy the experience.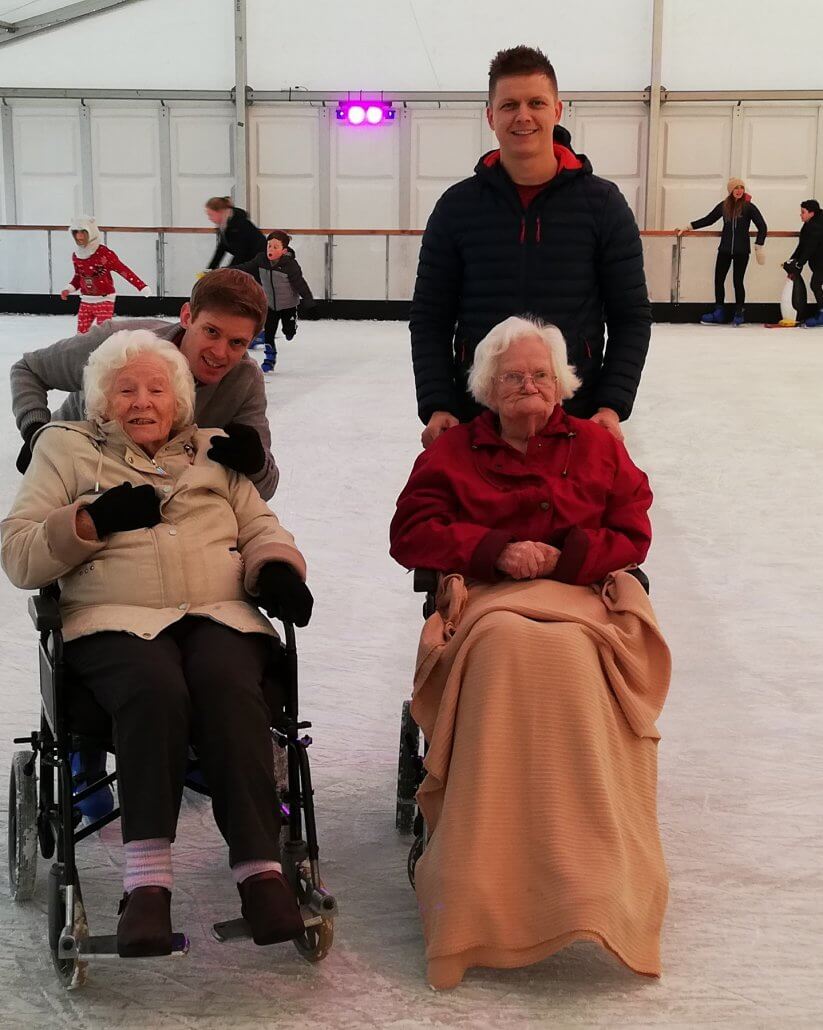 Richard said: "When I told our residents where we were going they were delighted, and the skating-on-wheels has totally fulfilled their expectations.
"We all dressed up nice and warm, the residents were helped into wheelchairs that were secure and comfortable, and then their helpers got them gliding around the rink.
"When they came off they said they felt as if they'd been flying, and there were lots of smiles and glowing cheeks."
The festive real ice rink is a first for Taunton in 2019, running daily from 9 December to 5 January 2020, except Christmas Day. Housed in a fully enclosed marquee decorated with festive lights and music, the experience is wheelchair accessible and suitable for ages four and upwards, with no previous experience required.
Housed in a glass-sided marquee, the rink is expected to operate in most weathers, and skaters are encouraged to dress up warmly, with hats and gloves.
Tickets are £8 for children/£10 for adults, including skate hire, and participants get a full 45 minutes on the rink. For conditions applying to children's use of the rink see https://www.visitsomerset.co.uk/taunton/iceskating
The Camelot Care Group runs a full programme of activities and outings all year round for the residents living with dementia they support at their homes in Wellington, Bridgwater and Plymouth. For further information see www.camelotcare.co.uk
https://www.camelotcare.co.uk/wp-content/uploads/2019/12/L-R-Cindy-Williams-Richard-Dempslake-Essie-Diggle-Mircea-Necula-2.jpg
1377
1433
Camelot Care
https://www.camelotcare.co.uk/wp-content/uploads/2015/08/Camelot-Care-logo-300x58.png
Camelot Care
2019-12-18 16:16:44
2020-01-15 12:59:17
WHAT AN ICE FESTIVE OUTING